FUJILINA Square Dance Connection
FUJILINA Square Dance Connection promotes international friendship through square dance between the Mount Fuji area of Japan and North Carolina.
See About for the story behind FUJILINA, and for how to contact us (email/phone/address). Get on our email list for information on upcoming Japan tours (April 2020) and reciprocal visits by our Japanese friends.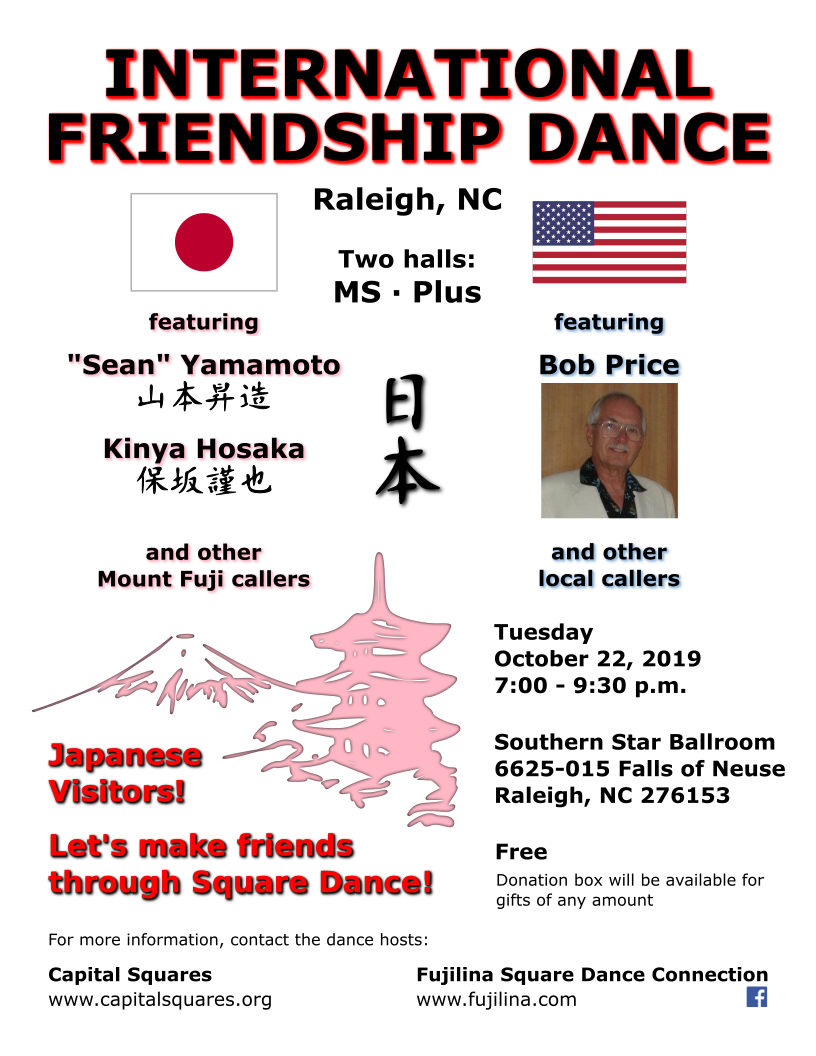 2019 International Friendship Dance - Raleigh, NC
This year (2019) in late October, 12 of our Japanese square dance friends will come over for a tour. Two of the dancer/callers will be repeat visitors from the visit last year, and they will be bringing along 10 other dancers/callers. This time, the tour will start in New York City before everyone arrives in North Carolina for some club visits. Come dance and make friends with our Japanese visitors on Tuesday, October 22 in Raleigh at the 2019 INTERNATIONAL FRIENDSHIP DANCE. Contact us to see how you can get involved in making sure these international visitors feel a wonderful square dance welcome!
In October 2018, 10 of our Japanese square dance friends came to the United States to dance and make friends. They toured Washington D.C. and danced there before arriving in North Carolina for several club visits. The 10-day tour ended in a well-attended, 20-square 2018 INTERNATIONAL FRIENDSHIP DANCE. Dancers from all over North Carolina and beyond came together in fellowship with our dance brothers and sisters from the other side of the globe. Isn't it amazing that the international language of square dance can bring us together this way?!
See Photos of our Fujilina Square Dance Friendship Tour to Japan in 2017